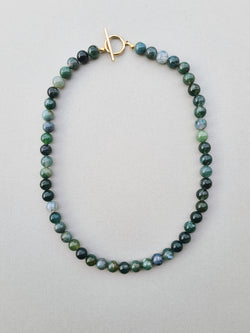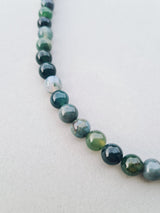 Named after the Greek goddess of peace.
"F
rom her the world was born, and her creation brought calm to an otherwise chaotic universe."
A necklace of semi-precious moss agate stone beads ~ said to balance mood, enhance self esteem and foster emotional stability.

Handcrafted in Somerset, England
8mm wide with a 14ct  gold filled toggle clasp.
43cm in length.
Each piece is individually hand made, due to this nature sizing may vary slightly. *Please email us if you would like a custom size.
Every necklace will have different characteristics due to the nature the natural materials ~ making every piece as unique as each owner.
A storage box, drawstring bag and care instructions are included with every necklace.
PLEASE ALLOW 1 - 2 WEEKS FOR DELIVERY