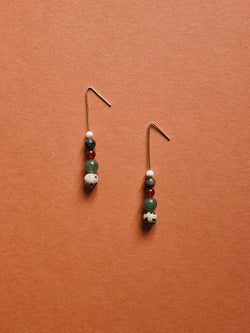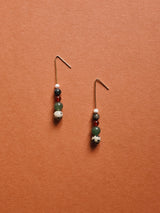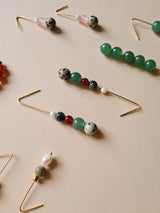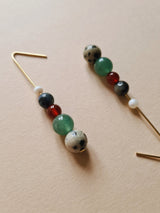 Named after the planet that is said to bring fortune, favour, miracles and blessings. Jupiter has been referred to as "the Great Benefic," and showers us with opportunities for growth, expansion and happiness.
Dalmation jasper, green aventurine, red carnelian, blue sodalite and mother of pearl semi-precious stone beads on a 14ct gold filled hook earring.
6cm in length.
Each piece is individually hand made, due to this nature sizing may vary slightly. *Please email us if you would like a custom size.
Every earring will have different characteristics due to the nature the natural materials ~ making every piece as unique as each owner.
A storage box, drawstring bag and care instructions are included with every set of earrings.
Handcrafted in Somerset, England.
PLEASE ALLOW 1 - 2 WEEKS FOR DELIVERY