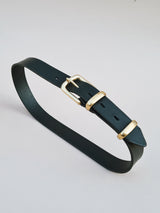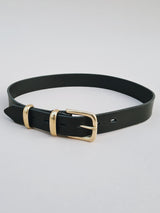 Dyad ~ something that consists of two elements or parts.
A belt with two loops to keep the end tucked in. The first loop is stitched into position, the second loop is a free moving piece to pull to your desired position. 
Smooth vegetable tanned leather and heavy solid brass hardware.
Measurements:
3.2cm / 1 1/4" Wide.
Sizes:
XS: 64cm - 77cm / 25" - 30"
S: 68cm - 81cm / 27" - 32"
M: 76cm - 89cm / 30" - 35"
L: 84cm - 97cm / 33" - 38"
Cut and sewn by hand using traditional leathersmith techniques in Somerset, England.
Each belt will have different characteristics or grain patterns. Veg tan leather ages beautifully and with time will gather signs of use, eventually becoming as individual as each owner.