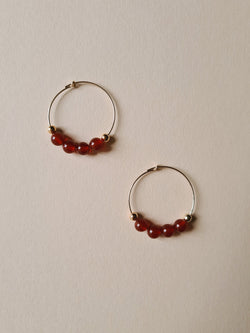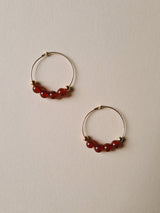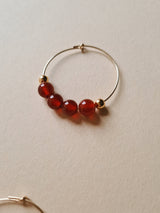 Named after the Roman goddess who personified luck and ruled over fortune and fate.

6mm wide semi-precious red carnelian beads and 4mm gold plated beads on a 14ct gold filled hoop earring.
Carnelian is considered to a be a lucky stone, helping to boost creativity, love, passion and courage.
3cm in diameter.
Each piece is individually hand made, due to this nature sizing may vary slightly. *Please email us if you would like a custom size.
Every earring will have different characteristics due to the nature the natural materials ~ making every piece as unique as each owner.
A storage box, drawstring bag and care instructions are included with every set of earrings.
Handcrafted in Somerset, England.
PLEASE ALLOW 1 - 2 WEEKS FOR DELIVERY